Self-Care During the Holiday Season with AVEENO®
This shop has been compensated by Collective Bias, Inc. and its advertiser. All opinions are mine alone. #MaxYourGlow #CollectiveBias
It's OFFICIALLY the holiday season, folks (I prefer to think of Santa Claus at the end of the Macy's parade as the start of the holidays rather than the end of Halloween)! And while I'm sure most of you are in a gift buying and giving frenzy (or will be in a few weeks, at least), I wanted to use today to remind y'all to take good care of yourselves! We spend a large amount of the holiday season thinking of others but practicing self-care is still so important. Repeat after me, self-care is NOT selfish!
A major way that I practice self-care is….you guessed it, with SKINCARE. One of my favorite skincare lines to wind down and relax with is the AVEENO® POSITIVELY RADIANT® Collection. It's specifically designed to enhance your natural radiance and give you a lit-from-within glow. Each soy-enriched product from the collection targets tone and texture. With the cold winter months ahead, it's especially important to give your skin a much-needed extra TLC.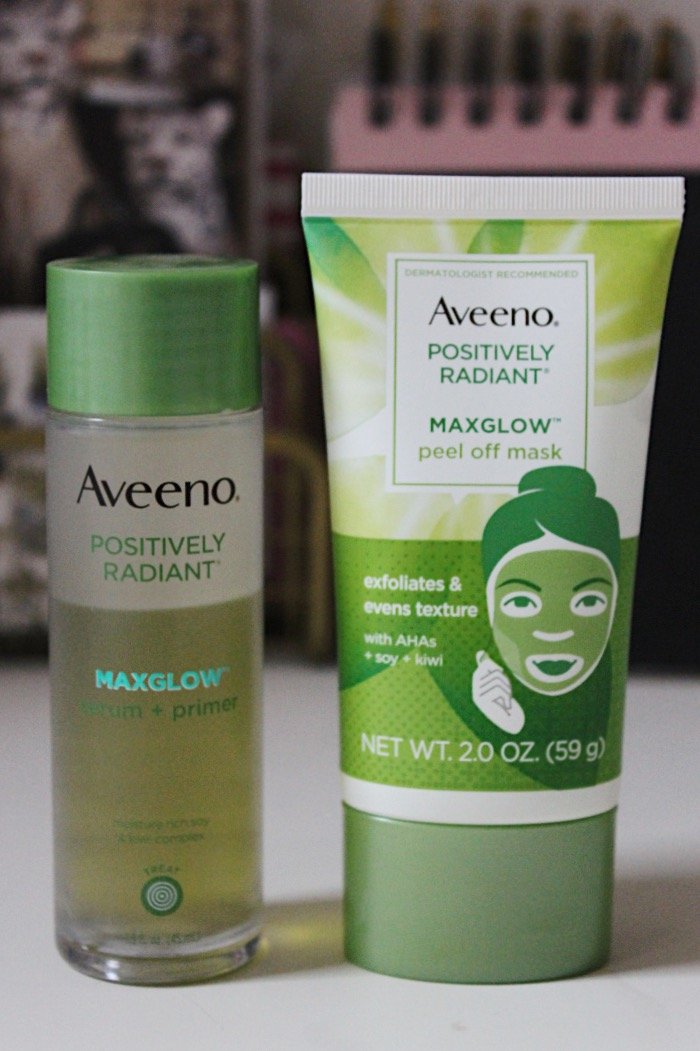 Hover over the image to see more information about these Aveeno products + to purchase.
MaxGlow Peel Off Mask
Putting on a face mask never fails to make me feel better after a long, stressful day of being alive. Peel off masks, in particular, are sooo satisfying! As you can see in the photo, the MaxGlow Peel Off Mask is a fun bright green color when it comes out of the tube, but it goes on and dries clear within minutes. This mask is super easy to use—simply apply, let dry, and gently peel off, with no need to rinse. I feel so refreshed afterward – this mask makes such a difference for both my pores and mood.
MaxGlow Serum + Primer
Love me a good two-in-one product. The MaxGlow Serum + Primer smells absolutely INCREDIBLE. The kiwi scent alone is enough to make me feel at peace. It's extremely gentle on my skin – especially since I always put it on after I've used much harsher masks, scrubs, and cleansers. You can use this liquid primer as the final step in your routine like I do, or in the morning right before applying makeup.
You can find the AVEENO® POSITIVELY RADIANT® Collection at CVS. For all you NYC people reading this, my favorite CVS (is it weird that I have a favorite CVS?) is the one on 86th street and 2nd Avenue. It's brand-new and one of the nicest beauty spots in the city (for real!). CVS is not only a convenient beauty destination but they do an incredible job curating a destination where beauty and self-expression are always close to home. You can find AVEENO® products in the acne/skincare aisle.
My skincare routine serves a dual purpose: it calms me down and it also keeps my skin looking healthy! What is your skincare routine like? How do you practice self-care? Have you ever tried anything from the AVEENO® POSITIVELY RADIANT® collection? What are your favorite skincare brands? Let me know in the comments below.
Connect with me on social: