This shop has been compensated by Collective Bias, Inc. and its advertiser. All opinions are mine alone. #RefreshingOrigin #CollectiveBias
Whew! Temps are SCORCHING hot this time of year in New York City! It's been nearly 90 degrees Fahrenheit for this past week and ya girl is feeling like this emoji:
. Even with the heat, summer is such a magical time of year for city adventures. One of my favorite things to do in particular is walk the Brooklyn Bridge! I usually walk the entirety of the bridge (it's 1.1 miles long total) at some point every summer. The bridge is easily accessible via Tillary Street or Washington Street on the Brooklyn side and by Centre Street on the Manhattan side. Whether I'm entering the bridge on the Brooklyn side or Manhattan side, I love to continue the fun by either exploring DUMBO or hit up my favorite restaurants in Chinatown/the Lower East Side.
HOW I STAY COOL AND ENERGIZED WHILE DOING SUMMER NYC ACTIVITIES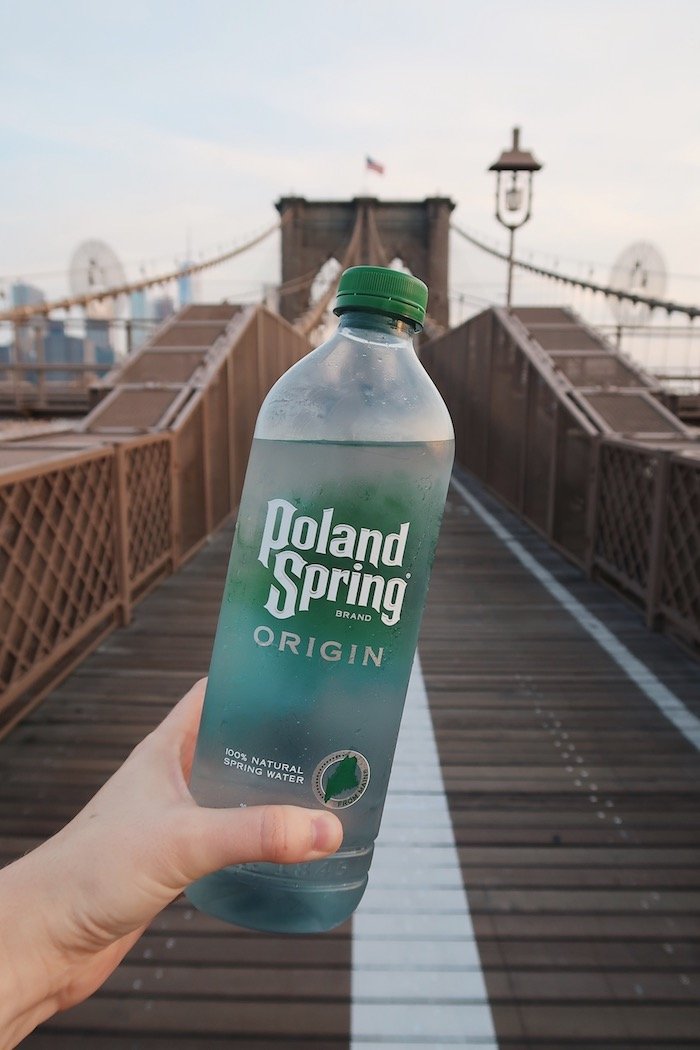 Click the above image to order Poland Spring ORIGIN for your household!
For doing ANY activity in the summertime, I have three main essentials. The first of which is sunscreen – if you're not putting on at least SPF 30 daily, you're gonna be in trouble in both the short run and the long run. Yes, I know it might be sticky and greasy, but slather on that sunscreen, just do it! The second thing is that I make sure I dress comfortably. That means wearing comfortable, breathable fabrics like 100% cotton and choosing shoes that won't leave me with blisters or achy arches. The third rule I abide by is staying well-hydrated. Before embarking on my day, I always make sure to leave the house with a bottle of water in my bag.
As a native New Yorker, I've trusted Poland Spring to hydrate me on my city excursions for my entire life – whether I'm going to the bridge, the zoo, the park, the beach etc. Their 100% natural spring water from Maine (the most refreshing place on Earth 😉) is perfectly balanced and contains natural electrolytes for a refreshing taste. Poland Spring ORIGIN Natural Spring Water is a brand new premium item from Poland Spring and it's perfect for a full summer day's worth of activities. The 900 mL size is just the right amount; I don't find myself finishing the whole bottle in two seconds like I do with smaller sizes! Bringing my Poland Spring ORIGIN around also makes it far less tempting to buy other iced drinks (which saves me both calories and $$$).
WHERE TO BUY POLAND SPRING ORIGIN
Poland Spring ORIGIN is newly available for purchase nationally through Walmart.com (not available in stores). With free two-day shipping on orders over $35, Walmart.com makes online shopping fast, simple, easy, and reliable. It's easy to stock up on Poland Spring ORIGIN and other household essentials.
How do you stay hydrated when it's hot enough to fry an egg on the pavement? What are your favorite water brands? Have you shopped Walmart.com before? Leave your thoughts with me in the comments below.
 Connect with me on social:
Facebook | Pinterest | Twitter | Instagram | YouTube | LinkedIn